How to Use the Viewer
Our viewer uses the Microsoft Silverlight plug-in. This plug-in is available for most browsers and platforms, including Safari on Mac (but not ios).
The first time you access an image, you will need to install Silverlight if it isn't already installed on your PC. It should automatically prompt you to install. If not, you will need to search for the plug-in for the browser you use.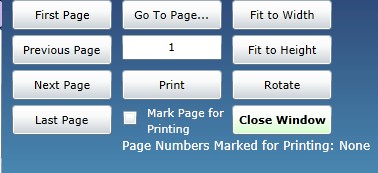 The controls above the image allow you to move within a document, change the size and print. There is also a slider above the image to resize. Once you make a change to the size, this size should be retained. If it is not being retained, make sure you are closing the viewer by using the "Close Window" button rather than the "X" in the top right corner.
For index books, you will no longer right-click|Navigate|Go to Page. You will enter the page number in the box under "Go to Page..." shown above.
You can also now mark specific pages for printing by checking the "Mark Page for Printing" checkbox. If you do not mark any pages, ALL pages will be printed.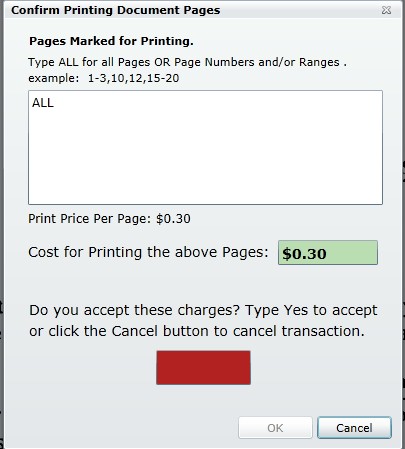 When you click the Print button, a box pops up that will show you the pages you have marked to print and how much those pages will cost. You must type the word Yes in the red box to continue to print. This functionality was added at the request of the state auditor as we have been asked to refund so many pages printed in error.
When you click the OK button, your print is converted to a pdf for printing. Click the OK button to see the pdf. You can then print from your PDF platform. In Adobe, mouse over the bottom center of the image to make the print toolbar appear. In some pdf plug-ins, you may have a print icon on a toolbar above the image.
PLEASE NOTE – You are charged for printing when you type YES in the red box and click the OK button. If you close the resulting pdf without printing, you will still be charged for the print.
Click the "Close Window" button to return to your search screen.
---
Troubleshooting
Your pop-up blockers must be turned off or caddoclerk.com added to your pop-up list for viewing.
If you are unable to view, first make sure you have Silverlight installed on your PC. Click this link to make sure Silverlight is installed. If it isn't, you should be able to install from this point.
If Silverlight is installed but you stil cannot view, check to make sure it is enabled. In Internet Explorer, go to Tools (or click the gear in the upper right hand corner), go to Manage Add-ons, and scroll down to Microsoft Silverlight. If it is disabled, click once on it to highlight, then click the Enable button.
If you still cannot view, please email Buddy.McLemore@caddoclerk.com. Include your operating system version, your browser name and version, and your specific issue.
---
You will need the latest version of the Microsoft Silverlight plug-in to use this system.
For more information