On July 1, 2008, the Caddo Parish Clerk's Office took over administration of the Caddo Juvenile Clerk's Office. This office maintains the records for all juvenile cases filed in Caddo Parish and keeps the minutes for cases heard at Juvenile Court. Some Child Support cases are heard in Juvenile Court, and Juvenile Adoptions are also processed here.
The Juvenile Justice Center is located at 1835 Spring Street in Shreveport, Louisiana.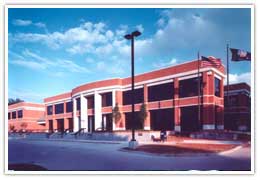 HOURS OF OPERATION
8 AM - 4:30 PM
Monday - Friday (except legal holidays)
All filings must be filed before 4:30 pm - No Exceptions. For any emergency filings after 4:30 pm, persons may file paperwork with the Caddo Parish Clerk of Court located at 501 Texas Street. Any emergency filings will be returned to the Juvenile Court the next business day.
---
CONFIDENTIALITY POLICY CONCERNING JUVENILE RECORDS
Art. 412 (A) of the Louisiana Children's Code states that "Records and reports concerning all matters and proceedings before the juvenile court, except traffic violations, are confidential and shall not be disclosed except as expressly authorized by this Code."
Art. 412 (D) states that "When such information is relevant and necessary to the performance of their respective duties and enhances services to the child or his family, the court (emphasis added) may authorize the release of records, reports, or certain information contained therein to appropriate individuals (that represent certain agencies-see La. Ch. Code).
As policy of the Caddo Parish Clerk of Court for Juvenile Court, the Office shall not release any information concerning any juvenile records or proceedings, in accordance with the Louisiana Children's Code as stated above. Any person or agency requesting juvenile records or background checks will need a court order for the release of the records. According to Art. 412 (in summary and as stated above), the court is the only entity authorized to release any juvenile records.
If a person or agency is requesting any juvenile records or background checks from the Clerk's Office, the Clerk will refer the request to the Court for approval of the release of records. The Clerk's Office will only begin a records search and release of the record (if applicable) with the expressed authorization of the Court.
---
Juvenile Costs
New Petition
$300.00
Curator's Fee
200.00
Voluntary Transfer of Custody
300.00
Home Study
150.00
Request For Hearing (Child Support)
150.00
Motion to Modify (VTC)
200.00
Motion for Disclosure
50.00
Certificate of Acknowledgement of Paternity
20.00
Each Additional Page
8.00
Any Additional Fillings (with existing number)
First Page
Each Additional Page

20.00
5.00
Copies (per page)
1.00
Certification (per document)
5.00
---
---
---
Juvenile Court Judges and Administration
Judge David Matlock
318-226-6755
Judge Natlie Howell
318-226-6587
Judge Ree J. Casey-Jones
318-226-6757
Michelle Perkins
Hearing Officer
318-226-6756
Bobby Stromile
Judicial Administrator & Hearing Officer
318-226-6756
Sarah Hood
Assistant Judicial Administrator & Hearing Officer
318-226-6756
---
For more information
Call 318-226-6751
or



Email juvenile@caddoclerk.com